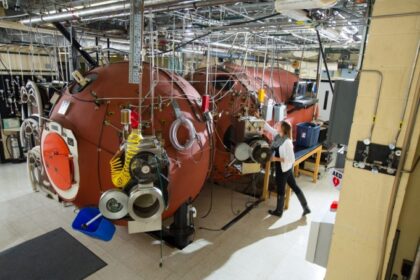 One of the most unique pieces of research equipment at UB is about to get a makeover.
The three-decades-old hyperbaric chamber housed in Sherman Annex on the South Campus is being upgraded, and the project will be handled by a Western New York company whose three generations of UB engineering graduates know the chamber inside and out.
Built in the 1970s, this is the second set of significant upgrades being made to the chamber, the first occurring about 15 years ago. UB received a $200,000 grant from the U.S. Navy's Office of Naval Research for the project.
The work will be done by Pendleton, N.Y.-based J.M. Canty Inc., whose founder, the late John M. Canty, built the chamber. He earned two engineering degrees from UB in the early 1950s.
His son, current company president Tod Canty, graduated in 1977 with a bachelor's degree in mechanical engineering and obtained his MBA from UB in 1982. Tod's daughter, Meredith Canty, who also will be involved with the project, is a 2012 UB engineering graduate.
What makes UB's hyperbaric chamber unique is the ability to fill one end with water. This allows researchers to conduct experiments at the pressure equivalent of up to 5,600 feet of seawater, a depth that isn't survivable by humans. The chamber is also hypobaric, meaning it can be used for altitude experiments up to 120,000 feet.
– See more at: http://www.buffalo.edu/news/releases/2016/01/033.html